MINAKEKKEが「Legendary」「AfterAge」の2曲を書き下ろし新録で提供したスマートフォンゲーム『ムシカゴ オルタナティブマーチ』のver2.0アップデートが公開されました。
 
■ストアURL
iOS(App Store) https://itunes.apple.com/jp/app/id1484566407
Android(Google Play) https://play.google.com/store/apps/details?id=com.caracolu.mushikago

---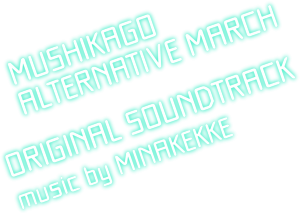 Digital | Dec.18.2019 Release | Released by IDEAL MUSIC LLC.
NGDS-0005 | 857yen(w/o tax) | 4 Tracks incl.
01. Legendary
02. AfterAge
03. Legendary_Instrumental
04. AfterAge_Instrumental
---
Legendary
明けようとしない夜
撫でて微笑んだ
その顔は綺麗な あらゆる歪みが
たたずむ暗がり
嘆いて 微笑んだ
その顔は綺麗だ どんな朝よりもっと
醒めようとしない熱
愛でて 微笑んだ
その顔は綺麗な 闇が怯むような
明けようとしない夜
愛してしまった
そしてまた世界は この手に帰る そっと
We received this lovely fate,
Time is running.
We'll see in the greatest night.
Go on.
AfterAge
I lost consciousness,
You will hollow out my mind from steel.
I got consciousness,
I will follow to steel.
I feel coldness
but I don't know whether it is from steel or from me ?
but i don't care 'cause (I) live.
I will shout out my life tonight.
Underrated one, so I cry out.
I will shout out my life tonight.
I want you to know
maybe tonight will be last.
It'll be lovely…It will.
---
All Songs Written, Produced, Performed by MINAKEKKE
Recording & Mixing Engineer: Toshihiko Kasai (studio ATLIO)
Mastering Engineer: Moe Kazama (studio ATLIO)
Recording, Mixing, Mastering Studio: studio ATLIO
Art Director: Maki Ono (Caramel Column inc.)
Jacket Designer: Prince of Curry (Caramel Column inc.)
---
スマートフォンゲーム『ムシカゴ オルタナティブマーチ』のサウンドトラック。このゲームのために書き下ろし新録で提供した「Legendary」「AfterAge」と、そのインスト・トラックの計4曲を収録。
『ムシカゴ オルタナティブマーチ』はテキストアドベンチャー形式で進む、『トリカゴ スクラップマーチ』のスピンオフアプリです。街獣と呼ばれる謎の生物を調査研究するのが、ゲームの目的となります。企画・開発は、自分探しタップゲーム『ALTEREGO』の株式会社カラメルカラムです。
---